Toyota Motor Corp. raised its annual profit forecast for a second time this year, helped by a weaker yen and U.S. sales that outpaced Ford Motor Co.
In the three months to September, Toyota took a 15 percent share in the U.S. — its biggest market — for the first time since 2009. Toyota outsold Ford every month in the quarter, with the RAV4 compact crossover setting a ninth straight monthly sales record in September. Sales also got a boost from the July launch of a completely redesigned Camry sedan, the bestselling car in America.
President Akio Toyoda is fighting to stave off a second consecutive year of declining profit, something that hasn't happened for the Toyota City, Japan-based company since 1994. The effort is complicated by a ramp up in research spending on new technologies like electrified powertrains and autonomous driving, areas in which Toyoda says the company needs to lead. To balance those outlays, Toyoda has set up a task force to ensure new spending is funded by cuts in other programs.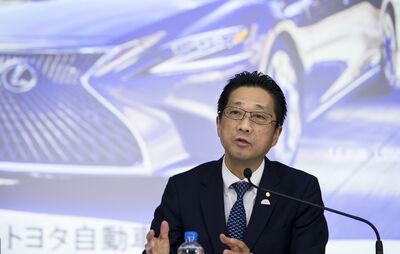 "We not only need to develop these leading technologies but also need to commercialize them," Chief Financial Officer Osamu Nagata told reporters Tuesday at a briefing in Tokyo. "In order to do that, we need to increase R&D expenses. This will be a cost burden so we need to speed up cost reduction."
Toyota Tuesday forecast operating income in the year ending in March may be 2 trillion yen ($17.5 billion), up from the 1.85 trillion yen forecast in August. The revised outlook compares with the 2.07 trillion-yen median estimate in a Bloomberg survey of 22 analysts. Toyota posted an operating profit of 1.99 trillion yen for the previous financial year.
The automaker also said it's going to buy back up to 1.5 percent of shares for 250 billion yen.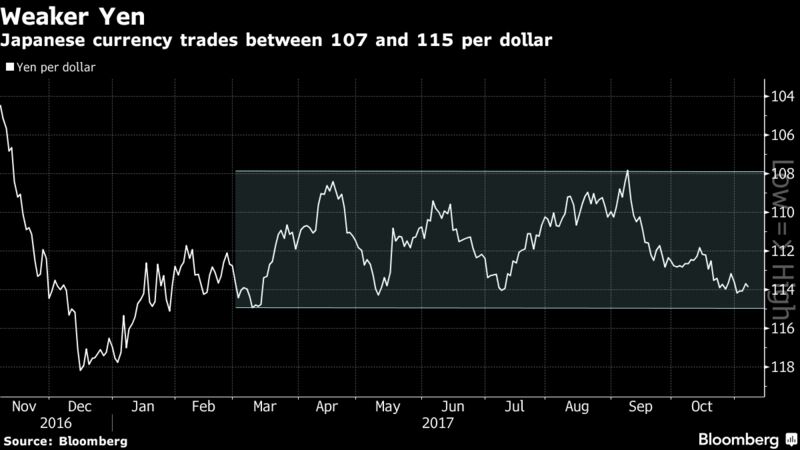 Toyota now sees the yen averaging 111 yen per dollar over the year to March, from 110 seen in August.
Toyota is also strengthening its presence in the U.S. market, joining with Mazda Motor Corp. to build a $1.6 billion auto plant in the country. The location of the plant is due to be decided early next year, with production beginning in 2021. As a consequence of the plan, Toyota reduced the size of its initial investment in a new Mexican factory by 30 percent to $700 million.
In January, President Donald Trump criticized the Mexican factory plan, demanding Toyota build a plant in the U.S. instead. Trump, who is in Asia this month, left his Japan visit on Monday without a concrete agreement to address what he deems an unfair trade relationship between Japan and the U.S.
While Toyota joined Honda Motor Co. in raising annual profit forecasts, Subaru Corp. cut its estimate for the fiscal year and Mitsubishi Motors Corp. maintained its numbers. Nissan Motor Co. is scheduled to announce its earnings Wednesday.
Toyota shares rose 0.2 percent to 7,183 yen in Tokyo. The earnings were announced after the stock market was closed for trading.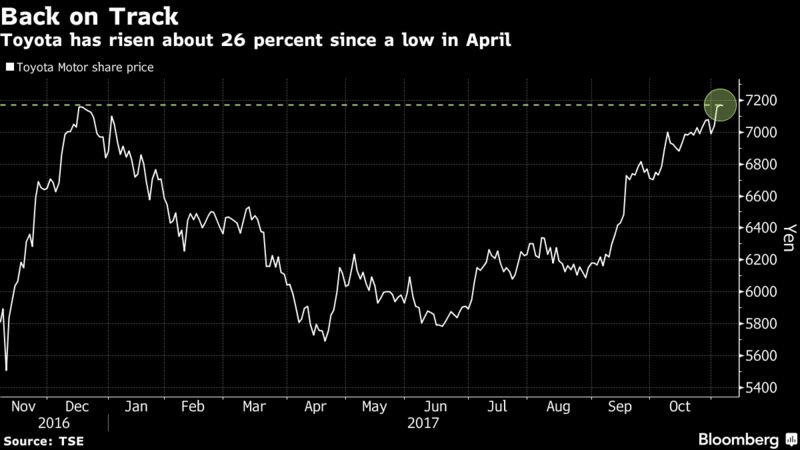 Even with the U.S. auto market on track to contract this year for the first time since 2009, a devastating hurricane season has spurred sales at Toyota and its peers as residents replace waterlogged vehicles. Bob Carter, Toyota's top sales executive for North America, said in an interview last month that he's "very confident" total sales for 2017 will top his initial forecast of 2.44 million. Last year, Toyota sold just below 2.45 million.
| U.S. VEHICLE SALES | 2017 YTD | 2016 YTD |
| --- | --- | --- |
| Toyota | 2,019,909 | 2,008,714 |
| Industrywide | 14,229,448 | 14,479,407 |
Through October, Toyota's sales have been just shy of 2.02 million, 11,195 units more than at the same point last year.